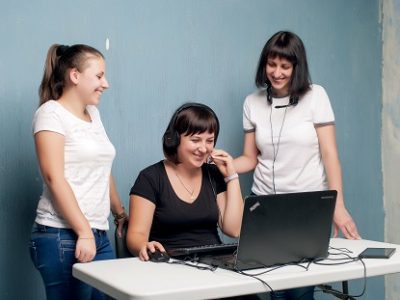 TELEPHONE SURVEYS
IMData has own CATI Studio located in the Company's central office in Kyiv. As a result of many years' specific experience, our specialists developed a well-established mechanism for conducting research using CATI methodology in full compliance with all quality requirements for telephone interviewing.
IMData's CATI Studio is equipped with 45 workstations and enjoys potential of more than 150 experienced interviewers. Supervisors and controllers continuously monitor work of CATI interviewers.
We conduct telephone interviews for different types of audiences (business, regular users) and using diverse work modes (calls to fixed and mobile phone numbers, as well as international calls).
In addition to quantitative research, we can offer qualitative studies carried by phone as well. We train our teams of interviewers to perform various research tasks, conduct surveys of diverse target audiences in vastly different areas.
On-site supervisors and controllers listen to all interviews in an online mode and constantly control work of CATI interviewers.
Moreover, our Center ensures 100% recording of all conversations to guarantee compliance with all policies and procedures throughout the whole project.